Dwight Baker's Home Page
I am working as a freelance consultant in Lake Elsinore California.
Here's my Grandfather Charles Baker. He traveled the highways working crops in his home state of Arkansas and in Michigan and Florida. It is only fitting and my way to honor him that he is now traveling the Information Super Highway.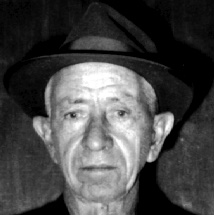 I have my GEDCOM file converted using a registered version of GED2HTML. Give it a try and email me about what you think.
I am working on a book about the Baker family in Arkansas. My first effort will be about all the Bakers listed in the Arkansas Census. I have all of the Bakers listed in the both the 1850 and 1860 census that I could find. It totals 319 families and 1404 individuals. If you have a Baker from Arkansas that was alive in 1850 or 1860 you should find them here. Let me know if you can link up with one. Also please help me with the spelling of the names as I have taken them from the census records and some of them are faded and in a curious handwriting.
I have moved my own Baker Family, Burel, and Arkansas 1850-1860-1870 gedcoms to gencircles so I can take advantage of the smart match feature they have there. Please use the links below to access those files. The Burel file is a different spelling of the Burelle name in my own file as it seems that the Gwinnett County Georgia familes now go by Burel. Smartmatch does not currently support soundex.
Gencirles/Global Tree main page
All the Bakers in the 1850-1860 and some 1870 Arkansas Census
Visit my Sister's Home Page
Want to see what 40 years will do to you?
Here is our family in 1958 and 1998?
Some other great genealogy resource sites you can visit on the web:
You can get a copy of GED2HTML here.
<![if !supportEmptyParas]> <![endif]>
Visitors
since Apr 22 1996
WebCounter TM Copyright 1996 Net Digits. All Rights Reserved.
For comments or questions, please see the Feedback Page.
http://www.digits.com/
If you have any questions or comments, send email to: Dwight